Brazilian Butt Lift in Beverly Hills
The physique many patients strive for is often characterized by toned legs and arms, flat tummies, and a round backside. While many parts of your figure can be refined in the gym, some patients may need a little more help to achieve the shape and curves they want.
At BHPS, Brazilian butt lifts have proven to be the perfect way to help patients achieve their dream figures. Minimally invasive, highly effective and long-lasting, this form of buttock augmentation is quickly becoming one of the most popular body sculpting treatments available.
Creating Better Curves with Butt Augmentation
While an active lifestyle can help you maintain a healthy weight, not everyone is completely satisfied with how exercise has been able to shape and tone their backsides. Factors like genetics and skeletal build influence overall butt size and shape, no matter how many squats you do. Weight fluctuation and changing skin texture over the years can also affect the shape and size of your buttocks.
In recent years, buttock augmentation with implants have become popular to improve the shape and tone of patients' rears. While these options remain highly effective, they also require invasive surgery as well as lengthy recovery time. As an alternative, more patients are choosing to enhance their buttocks with Brazilian butt lifts.
What is a Brazilian Butt Lift?
Brazilian butt lifts, or BBLs, are a form of buttock augmentation that uses your body's fat to reshape and add volume to your bottom, instead of using implants. During the procedure, donor fat cells are taken from other parts of the body, sterilized, and reinjected into the buttocks. As a result, butt contours are improved and stubborn fat deposits from other areas of the body are minimized.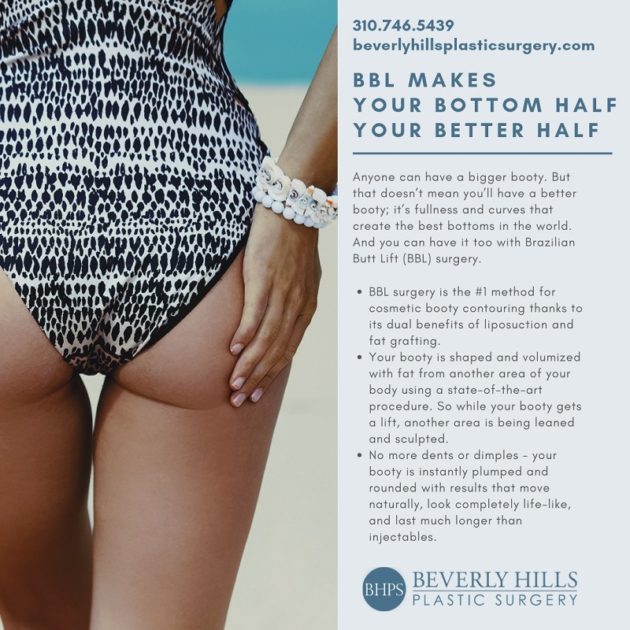 Why Choose BBL?
Brazilian butt lifts offer more advantages than just a curvier figure. At BHPS, here are just a few reasons why our Beverly Hills butt enhancement specialists love Brazilian butt lifts:
BBL: The Best of Two Procedures in One
One of the top reasons why patients love the Brazilian butt lift is because the treatment targets not just one problem area, but two. Donor fat tissue must be taken from other parts of the body via liposuction to add volume to the buttocks.
For many patients, the development of fat pockets that are resistant to exercise and diet prevents them from reaching their body goals. During the fat reduction part of a Brazilian butt lift, these stubborn pouches can be targeted and recontoured to smooth your appearance, creating the figure you want.
Fat Transfer is the Natural Alternative to Butt Implants
Hesitant about putting implants in your body? You're not alone. Adverse reaction to implants is a serious concern for many, as it could ultimately require implant removal. Furthermore, not everyone likes the way implants look, finding them to be too unnatural.
By using the patient's fat to recontour and shape the buttocks, our specialists can reduce the risk of adverse reaction. While some of the transferred fat tissue may be reabsorbed by the body following treatment, patients leave with enhancements that look and feel natural.
A Rounder, Firmer Backside with Minimally-Invasive Treatment
While all buttock augmentations are a form of plastic surgery, some are significantly more invasive than others. During traditional butt implant procedures, surgeons must make long incisions to reposition tissue or add implants. While this is effective at creating desired results, all surgical incisions will leave some scarring, even if it's minor. In contrast, Brazilian butt lifts procedure are completed almost entirely via cannula. As surgical intervention is limited, patients who opt for Brazilian butt lifts can enjoy a shorter recovery and virtually no scarring.
Brazilian Butt Lifts at BHPS
Our team is driven by the desire to help all patients feel comfortable and confident in their appearances. Whether you're coming in for a consultation or have decided to enhance your appearance with a Brazilian butt lift, our experienced surgeons are your partners in plastic surgery. Here's what you can expect during your Brazilian butt lift at BHPS:
One-on-One Consultations with Experienced Surgeons
All successful plastic surgery procedures start with an in-depth evaluation and meeting with an experienced physician. Not only is this first step important in establishing your cosmetic objectives, but it is also a critical step in choosing the right procedure to create your expected results.
At BHPS, your consultation is a one-on-one conversation with our experienced team, during which we'll discuss your concerns and goals. We'll evaluate your figure and explain all available treatment options with you, highlighting the benefits and complications associated with each. We believe the best treatment plans are created when patients have all the information needed to make the best decision for their bodies. Our team encourages patients to bring any questions they have regarding treatment and recovery.
The Brazilian Butt Lift Treatment Process at our Beverly Hills Office
Brazilian butt lift procedures rely on autologous fat transfer to enhance the rear, rather than inserting implants. The overall procedure can be broken down into three phases. During the first phase, your BHPS surgeon will use liposuction to collect fat cells from other parts of the body. While fat can be taken from anywhere, we've found the best results come when fat is removed from the abdomen, love handles, or thighs. Targeting cells in these areas allows our surgeons to recontour the entire waist-to-leg area of patients' figures in one procedure.
Once removed, the fat cells are processed in our office to prepare for reinjection into the buttocks. Usually, this includes the addition of platelet-rich plasma to help keep the donor cells viable once moved into the buttocks, reducing the need for touch-up or retreatment.
After the fat cells have been treated, they are reinjected into the buttocks at strategic points. Where the donated fat cells are placed depends on your overall objectives. As the injections are completed with micro cannulas, the procedure can be completed comfortably with local anesthesia.
Recovery after BBL
As there are only a few short incisions associated with Brazilian butt lifts, recovery is minimal, especially when compared to what patients can expect with traditional butt lift or augmentation. For the first few weeks after treatment, patients should avoid putting too much pressure on their buttocks and can expect some soreness. However, most patients who choose Brazilian butt lifts are back to their normal routines within three weeks of treatment.
During follow-up appointments, our surgeons will monitor your recovery and can provide tips on how to improve your healing process.
Learn more about BBLs in Beverly Hills at BHPS today!
At Beverly Hills Plastic Surgery, our mission is to help you feel fabulous in your skin. Learn more about the possibilities available with Brazilian butt lifts by calling our team and scheduling your consultation today! Our Beverly Hills surgeons look forward to seeing you.