Liposuction
Even with exercise and a proper diet, sometimes, stubborn pockets of body fat refuse to leave. Fortunately, liposuction offers a solution to this common problem. This popular procedure helps sculpt the body by removing unwanted pockets of fat from specific areas, including the abdomen, hips, buttocks, thighs, knees, upper arms, chin, cheeks, and neck.
In recent years, liposuction has undergone many advancements, giving patients in Beverly Hills more options to suit their cosmetic goals. These days, patients have access to techniques like the tumescent method, ultrasound-assisted liposuction (UAL), and the super-wet technique, all of which help plastic surgeons achieve precise results and quicker recovery times. Although liposuction isn't a substitute for a proper diet and exercise, it can remove stubborn areas of fat that don't respond to traditional weight-loss methods.
If you're seeking liposuction in the Beverly Hills area, Dr. David Kim and Dr. Eugene Kim at Beverly Hills Plastic Surgery would be happy to discuss your options and create a treatment plan that aligns with your cosmetic goals.
To learn more about how liposuction can benefit you, contact Beverly Hills Plastic Surgery today at (310) 746-5439 to schedule a consultation in Beverly Hills.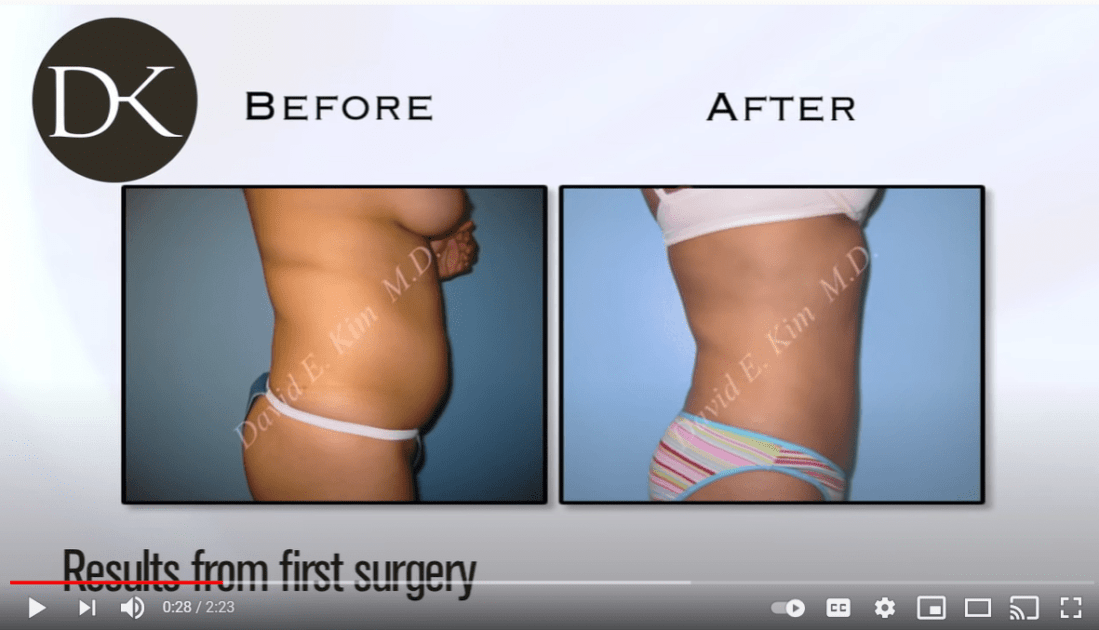 Ideal Candidates for Liposuction
Good candidates for liposuction are close to their ideal weight with firm, elastic skin, and are unhappy with areas of excess fat. Likewise, candidates should be physically and psychologically healthy. While liposuction is a great way to reduce targeted areas of fat, it's important to have realistic expectations about the procedure. To get a better idea of what kinds of results you can expect from liposuction, be sure to view our before-and-after photo gallery.
Your Liposuction Consultation
If you're considering liposuction in Beverly Hills, you might feel overwhelmed by the options and techniques that are available. However, your surgeon can help you decide which treatment is right for you, taking into consideration the effectiveness, safety, and cost.
The surgeons at Beverly Hills Plastic Surgery pride themselves on providing helpful, informative consultations, which aim to educate patients about their potential procedures. At your initial liposuction consultation, your surgeon will evaluate your health and medical history, assess the location of your fat deposits, and evaluate the condition of your skin. He will then explain the body contouring option that is the most appropriate for you. For example, patients seeking liposuction in the abdominal area might find that abdominoplasty or a "tummy tuck" is a better option. And for patients who prefer a non-surgical method, CoolSculpting is an effective, non-invasive option of body contouring.
Preparing for Your Liposuction | Beverly Hills
Before your liposuction surgery, your surgeon will provide you with instructions on how to prepare, including guidelines on eating and drinking, smoking, and taking vitamins or medications. If you develop a cold or an infection of any kind, your surgeon may recommend that the liposuction be postponed.
Liposuction is often performed under general anesthesia, so you should arrange to have someone drive you to our Beverly Hills office and take you home afterward. Many patients also find it helpful to have a friend or caregiver assist them at home for a day or two after liposuction.
About the Liposuction Procedure
The length of your liposuction surgery will depend on the size of the treatment area, the liposuction method used, the amount of fat that needs to be removed, and the type of anesthesia. During the procedure, fat is removed to recontour or reshape areas of the body. Your surgeon will insert a tube or cannula through a tiny incision on your body. This tube will then vacuum the fat layer that lies deep beneath the skin.
The cannula is moved through the fat layer, breaking up the fat cells and removing them through the tube. If several sites need to be addressed, your surgeon will move on to each area, making sure the incisions are as minimal as possible. After the surgery has been completed, a snug compression garment will be worn by the patient to help reduce swelling.
Liposuction Techniques
As liposuction has undergone refinements and developments over the years, several new techniques have been introduced. These innovations have greatly enhanced the ease of use for this procedure, in addition to providing more favorable outcomes.
Fluid Injection: With this technique, a medicated solution is injected into treatment areas before fat is removed. The medicated solution is made from intravenous saline solution, epinephrine, and lidocaine. The fluid injection technique not only helps surgeons remove fat more easily, but it also reduces blood loss and provides anesthesia during and after surgery, and it reduces bruising.
Tumescent Technique: This technique derives its name from the swollen or "tumesced" fatty tissue it causes. During the tumescent method, very large volumes of fluid are injected into the treatment areas. It is usually performed on patients who only require a local anesthetic, but it takes significantly longer than traditional methods of liposuction. But since the injected fluid has anesthetic, more anesthesia may not be needed during the procedure.
Super Wet Technique: This technique is similar to the tumescent technique, but less fluid is used, and it usually requires IV sedation or general anesthesia.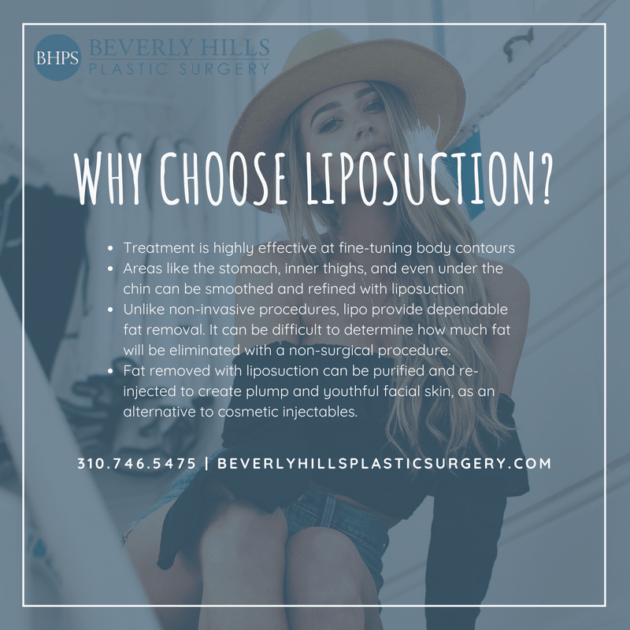 Risks Associated with Liposuction
General Risks
Patients seeking liposuction in Beverly Hills should be aware that there are risks associated with any surgery. But in general, liposuction is safe as long as patients are good candidates for the procedure, the operating facility is accredited and properly equipped, and the physician is adequately trained. Liposuction carries greater risk for individuals with medical problems like diabetes, heart disease, lung disease, poor blood circulation, or those who have recently had surgery near the area to be contoured.
As a minimum, your surgeon should have basic accredited surgical training with special training in body contouring. Even though many body contouring procedures in Beverly Hills are performed outside the hospital setting, be certain that your surgeon has also been granted privileges to perform liposuction at an accredited hospital.
Surgeons must have advanced surgical skills to perform procedures that involve the removal of large amounts of body fat (more than 5 liters or 5,000 ccs). It's a good idea to ask your doctor about his or her former patients who've had similar procedures and what their results were. Also, more extensive liposuction procedures require attentive aftercare. Find out how your surgeon plans to monitor your condition closely after the procedure.
Although a qualified surgeon and a state-of-the art facility can improve your chances of having a good outcome, complications can still occur. Your risk of complications increases if large amounts of areas are treated at the same time, or if the operative sites are very large. These factors may also increase risks for infection, delays in healing, the development of fat clots or blood clots, excessive fluid loss, friction burns, damage to the skin and nerves, perforation injury to the vital organs, and unfavorable drug reactions.
Risks from Newer Liposuction Techniques
In addition to general liposuction risks, there are also some things to consider about newer liposuction techniques. With ultrasound-assisted liposuction, the heat from the ultrasound device may cause injury to the skin or deeper tissues. Although this procedure has been performed safely on people every year, the long-term effects of using ultrasound energy on the body are not yet known. In the tumescent and super wet techniques, the anesthetic fluid that is injected may cause lidocaine toxicity (if too much lidocaine is used), or collection of fluid in the lungs (if fluid is administered improperly).
To learn more about how liposuction can benefit you, contact Beverly Hills Plastic Surgery today at (310) 746-5439 to schedule a consultation in Beverly Hill
Liposuction FAQs | Beverly Hills
Liposuction surgeries may be performed onsite at Beverly Hills Plastic Surgery's state-of-the-art surgical center, in an outpatient surgery center, or in a hospital. Liposuction procedures removing small amounts of fat are usually done on an outpatient basis for cost and convenience. But, if large amounts of fat will be removed or if the liposuction is being performed along with other procedures, patients may have to stay in a hospital or overnight nursing facility. In either case, the surgeons at Beverly Hills Plastic Surgery are dedicated to your comfort and safety throughout the duration of the procedure.

Various types of anesthesia can be used for liposuction procedures. For optimal comfort, general anesthesia is most often used. But you and your surgeon can select the type of anesthesia that provides the safest and most effective level of comfort for your specific needs.

Local anesthesia can be used if your liposuction procedure is only targeting a small amount of fat or limited sites on the body. For added comfort, local anesthesia can be used along with intravenous sedation. For more extensive procedures, regional anesthesia is also suitable.

After your liposuction procedure, it's normal to experience burning, swelling, bleeding, and temporary numbness. You will be prescribed pain medication to reduce any discomfort. Since there will be fluid drainage from the incisions, you might find it helpful to place plastic on your bed to protect it from drainage. To control swelling and facilitate healing, you may be fitted with a snug elastic garment to wear over the treated area for a few weeks. It's normal to feel a bit anxious after your liposuction, but this feeling will subside as you begin to heal and feel more comfortable in your body.

The recovery period will differ for each patient, and healing is a gradual process. It's generally recommend that you start walking around as soon as possible to reduce swelling and to help prevent the development of blood clots. Most patients begin to feel better after about a week or two, and you should be able to resume work within a few days following your liposuction. Within the first week to 10 days, the stitches will be removed or they'll dissolve on their own, depending on the type. Strenuous activity should be avoided for the first few weeks. Although most of the bruising and swelling usually disappears within three weeks, some swelling may remain for six months or more.

Your surgeon will schedule follow-up visits to monitor your progress and to see if any additional procedures are needed. If you have any questions or unusual symptoms between visits, like heavy bleeding or a sudden increase in pain, it's best to call your doctor.

Dr. David Kim and Dr. Eugene Kim will aim to minimize the appearance of scars by strategically placing incisions so they're hidden from view. Most liposuction patients find their scars to be minimal. However, imperfections in the final appearance can still occur. The skin surface may be irregular, asymmetric, or "baggy," especially in older patients. Pigmentation changes may also occur. Sometimes, additional surgery may be recommended.

Most liposuction patients see a noticeable difference soon after their procedure. When most of your swelling has disappeared, which is usually at around four to six weeks, your shape will be noticeably more sculpted. After about three months, the remaining swelling usually disappears and the final contour will be visible.

Many liposuction patients find that their procedure allows them to wear more clothing options, and it gives them a boost in self-esteem. When you feel more at ease with your body, you generally feel more comfortable engaging in activities and exercise, which will help you maintain your new, sculpted figure.

To learn more about how liposuction can benefit you, contact Beverly Hills Plastic Surgery today at (310) 746-5439 to schedule a consultation in Beverly Hills.