Ear Surgery in Beverly Hills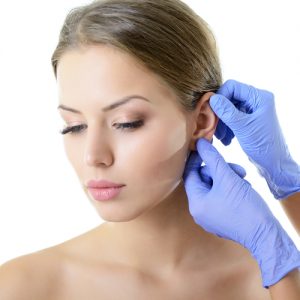 Otoplasty — also known as cosmetic ear surgery — is a procedure to change the shape, position or size of the ears. You might choose to have otoplasty if you're bothered by how far your ears stick out from your head. You might also consider otoplasty if your ear or ears are misshapen due to an injury or birth defect.
Otoplasty creates a more natural shape while bringing balance and proportion to the ears and face. Correction of even minor deformities can have profound benefits to appearance and self-esteem. If protruding or disfigured ears bother you or your child, you may consider plastic surgery.
What can ear surgery treat?
Overly large ears – a condition called macrotia
Protruding ears occurring on one or both sides in varying degrees – not associated with hearing loss
Adult dissatisfaction with previous ear surgery
Your Ear Surgery Consultation
During your ear surgery consultation be prepared to discuss:
Why you want the procedure, your expectations and desired outcome
Medical conditions, drug allergies and medical treatments
Use of current medications, vitamins, herbal supplements, alcohol, tobacco and drugs
Previous surgeries
Your plastic surgeon will also:
Evaluate your general health status and any pre-existing health conditions or risk factors
Take photographs for your medical record
Discuss your options and recommend a course of treatment
Discuss likely outcomes of ear surgery and any risks or potential complications
Schedule a Consultation with Beverly Hills California Plastic Surgeon Dr. Kim
For more information on the surgical and non-surgical procedures and treatments by Cosmetic Plastic Surgeons Dr. David Kim and Dr. Eugene Kim. Click here to contact us today.
Also visit drdavidkim.com
Serving Beverly Hills, Los Angeles, West Hollywood, Orange County, Southern California and surrounding areas.