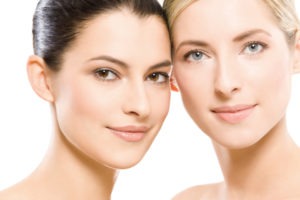 Facial Plastic Surgery in Beverly Hills
Beverly Hills Plastic Surgery features some of the leading facial treatments on the market. Our plastic surgeons specifically chose each procedure because of its proven ability to show stunning and natural results in the least amount of time. We've summarized our facial procedures below.
Fine lines and wrinkles naturally form on our faces due to us making expressions such as frowning, squinting, laughing, or smiling. As we get older, our skin's collagen production begins to slow, making it more difficult for our skin to stay smooth and wrinkle-free. These wrinkle relaxers temporarily paralyze the nerve impulses that allow our muscles to make facial expressions, and as a result, eliminate or reduce contraction-induced wrinkles. Botox, together with Dysport and Xeomin, are neuromodulators or muscle relaxers. All three products are commonly sought by individuals looking to reduce frown lines on the forehead, crow's feet, smoker lines, bunny lines, and perpendicular lines between the brows.
A brow lift, also known as a forehead lift or forehead rejuvenation, is a cosmetic procedure that improves the forehead's appearance by raising the soft tissue and skin. By repositioning the underlying muscles and tissues, a more youthful, refreshed look without the excess sagging skin and deep furrows is achieved, giving the patient a self-image and self-confidence boost.
A brow lift can be performed alone or with other facial rejuvenation procedures, such as eyelid surgery (blepharoplasty) or a facelift.
Eyelid surgery (blepharoplasty) is a procedure that repairs drooping eyelids by removing excess skin, muscle, and fat to reduce puffiness typically caused by the aging process.
Besides making you appear older, severely sagging skin around your eyes can reduce your side vision, also known as your peripheral vision. Blepharoplasty can reduce or eliminate these vision problems and at the same time make your eyes appear brighter, younger, and more alert.
For even more of a rejuvenated look, you may also choose to have your eyelid surgery performed in conjunction with other facial procedures, like a facelift or browlift.
The skin on the lower half of our face is susceptible to sagging, creases, lines, and wrinkles, usually due to the natural aging process, and of course, gravity. Other factors could be our environment, genetics, as well as sun exposure, and smoking.
A facelift, or rhytidectomy, is a carefully customized procedure designed to improve visible signs of aging in the face and neck. You might be a good candidate if you are bothered by sagging in the midface, deep creases below the lower eyelids, or along the nose extending down to the corner of the mouth. Jowls or loose skin and excess fatty deposits under the chin and jaw are also reasons to consider a facelift.
Through facelift surgery or rhytidectomy, Dr. David Kim and Dr. Eugene Kim have been able to help many women and men look younger, more vibrant and alert, and feel more confident in their appearance.
Fat Transfer
Sunken cheeks, gaunt cheekbones, deep grooves running from the nose to the corners of the mouth, and lines between the lower eyelids and the cheek can often be filled through fat transfer.
Fat transfer, a procedure also referred to as fat grafting, fat injections, and lipofilling, uses a person's own fat to fill in irregularities and grooves. This fat is obtained by liposuction through one or more tiny incisions, usually from the abdomen or inner thigh. The extracted fat is processed by centrifuging, filtering, and rinsing, leaving pure liquid fatty tissue ready for injection into the selected target areas.
The fat is then injected in multiple tiny evenly distributed doses ensuring that the injected fat is well surrounded by healthy tissue that supplies it with oxygen and nutrients.
While it's also a popular method for lip enhancement, lipofilling can also be used to smooth out irregularities resulting from injuries or poorly performed liposuction.
While Botox is an excellent choice for taking care of regions of the face where muscles contract, fillers are best for deep lines that form even when facial muscles are not contracting. Also known as soft tissue fillers, dermal fillers are substances designed to be injected beneath the skin's surface to restore volume and fullness. They can be used to plump thinning lips, give eyebrows a lift, enhance cheekbones, erase under-eye circles, smooth smile lines, and leave you looking more rested, rejuvenated, and younger.
Fillers can be made from a variety of materials, each being designed for a specialized purpose. Fillers like Restylane, Perlane, Juvederm, and Belotero are all made of a Hyaluronic acid gel. Radiesse is made of Calcium Hydroxylapatite (CaHA) microspheres suspended in a gel, and Sculptra is made from a synthetic material called poly-L-lactic acid.
The neuromodulators or muscle relaxers mentioned earlier and fillers are commonly used together. Since they work differently, they are used on different facial lines and creases.
Otoplasty, also known as ear surgery, is used to reshape ears that protrude too far away from the head's sides, to create missing or reshape underdeveloped ear folds, or reduce oversized ears.
During otoplasty, the ear is reshaped through an incision placed in a natural fold behind the ear. Through this incision, the ear cartilage is adjusted and contoured with a combination of incisions and sutures that reposition the cartilage. To reduce the size of an ear, your surgeon may create incisions into the ear lobe or along the edge of ear folds. These incisions usually heal very well and with minimal scar visibility once healing is complete.
Otoplasty is a safe procedure, and since it takes place on the external ear, the outcome does not affect hearing.
We invite you to see how one or more of these facial procedures can help you by contacting us online today.
Contact Dr. Kim
Dr. David Kim and Dr. Eugene Kim are dedicated to cutting-edge procedures designed to rejuvenate your appearance while safeguarding your health and well-being at all times.
For more information on our surgical or non-surgical procedures for the face, or to schedule your initial consultation, please contact Dr. Kim today.