Achieve Natural Results with a Brazilian Butt Lift
Posted on February 5, 2019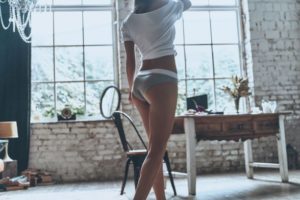 From social media to the red carpet, shapely rears are a highly desired feature for many women. While glute-focused workouts can help add some definition by building muscle, there's a physical limit to how much you can grow your rear, not to mention the hours needed to reshape your glutes. Genetics specifically play a large part in determining how large your booty can get, even with a glute-driven exercise routine.
With that in mind, if you feel less than satisfied with the size and shape of your rear, consider enhancing your features with the ever-popular Brazilian butt lift.
What is a Brazilian Butt Lift
Traditionally, buttock augmentation was completed using silicone-filled implants placed deep within the gluteal tissue, like how breast augmentations are done.
Also known as a gluteoplasty, Brazilian butt lifts take a different approach to create a more rounded rear. Instead of turning to implants, this procedure uses the fat transfer process to move extra fat from one part of the body to the butt. During this process, extra unwanted fat is taken anywhere else on the body, such as the abdomen, thighs, back and flank via liposuction. The fat cells are purified and reinjected back into the fatty and muscle layers of the gluteal muscle, enhancing the fullness, roundness, and volume of the derriere.
The Benefits of a Fat Transfer
There are a number of reasons why patients love the Brazilian butt lift process:
Two procedures in one
While Brazilian butt lifts are not a weight loss solution, they can help reduce stubborn fat pockets throughout the body while enhancing the butt. For many patients, this two-in-one approach can help them achieve their ideal figure with just one procedure.
More natural than silicone
While silicone has a long and successful medical history, not all patients are comfortable with the idea of having a foreign substance in their body for extended periods of time. As Brazilian butt lifts use an individual's own body fat to enhance their shape, the likelihood of the body reacting negatively to treatment diminishes.
Less invasive that implant placement
Compared to traditional buttock augmentation, Brazilian butt lifts are a bit less invasive. Fat is harvested from other parts of the body via liposuction then reinjected without the need to make major incisions into the muscle tissue. The procedure is generally performed as an outpatient procedure, and most patients are surprised by how pleasant the two-week recovery process is.
Lasting, natural looking results
Unlike other cells in the body, fat cells are nearly impossible to remove without physical extraction. As Brazilian butt lifts take unwanted fat cells from one part of the body and transfer them to derriere, patients don't need to worry about more fat cells replacing the ones that had been used to enhance their rear. Best of all, as no implants are used, the treatment results in natural feeling curves.
What to look for in a Brazilian Butt Lift Surgeon
Like all other surgical treatments, there are certain risks associated with Brazilian butt lifts. However, choosing an experienced surgeon who is knowledgeable about fat transfer procedures can ensure a comfortable and successful treatment. When searching for the right plastic surgeon, be sure to ask prospective surgeons about:
Certifications: Is my surgeon certified by the American Board of Plastic Surgery and trained in fat transfer surgery?
Accreditations: Where will my surgery be performed and is this facility accredited by a national or state-recognized accrediting agency?
Candidacy: Will a Brazilian butt lift help me achieve my goals or is there another option I should consider?
Results: What can I expect my final results to look like? How long will they last? Do you have before-and-after photos of other patients I can review?
Get the curves you deserve at BHPS
At Beverly Hills Plastic Surgery, our experienced team is committed to helping patients feel comfortable and confident in the way they look. If you're ready to achieve a curvier, more feminine figure, call our team today and schedule your consultation.