Breast Augmentation for Uneven Breasts: 5 Things You Should Know
Posted on October 16, 2019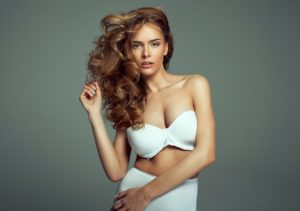 No two breasts are the exact – not even the pair on the same chest. While it may not be noticeable for all women, most have some degree of asymmetry between their breasts, where one happens to be larger than the other. For most, the difference can be imperceptible and easily hidden within a bra. For others however, the difference between breast size can be very noticeable. From impacting bra size to changing the way clothes fit, the disparity in size can severely impact a woman's self-confidence to the point where many experiencing this problem begin to look for more permanent solutions.
Breast augmentation for breast asymmetry has become one of the more popular treatment options for patients with significant differences in the size of their breasts. Before choosing this option however, there's a few considerations patients should be aware of before moving forward with augmentation as the answer.
Asymmetry Treatment Is Not the Same as Standard Augmentation
In many ways, treating asymmetry with breast augmentation is more complicated than simply placing implants. Addressing asymmetry requires a comprehensive strategy that can include implants, lift and other surgical solutions in order to create the patient's ideal figure and create symmetry. Choosing a surgeon with a proven eye for aesthetics and experience in treatment asymmetry can make a difference in achieving the desired results.
Nature Isn't Always to Blame
While few women are naturally blessed with perfectly even breasts, genetics isn't always the culprit behind asymmetry. Improperly placed implants, accidental implant rupture and other previous efforts to enhance breast size can over time change the shape and placement of existing implants, thereby changing the overall appearance. Corrective surgery can be leveraged to fix the original augmentation and enhance a person's figure, leaving them feeling confident in their overall look.
Augmentation Solution Varies From Patient to Patient
Like any other form of breast augmentation, procedures that correct asymmetry are highly personalized to each person and dependent on several factors. While women with thick breast tissue and severe asymmetry may find more natural looking results with saline implants that are filled during the procedure, others may achieve their best results with silicone or gummy bear implants.
Not All Asymmetry Requires Augmentation
For some, asymmetry treatment can require reducing the larger breast to a more manageable size rather than adding volume to the smaller one. In these instances, breast reduction surgery is an excellent alternative to creating proportionate, evenly sized breasts.
Augmentation Can Require Several Treatments
There is no one-size-fit-all option for correcting asymmetrical breasts. In some instances, combination treatments that leverage breast reduction, lift and augmentation can be a woman's best chance at achieving symmetrical and natural looking results. During your consultation with your experienced plastic surgeon, you'll be able to explore these different options and identify which of these procedures will best help you achieve your goals.
Get the Facts at Beverly Hills Plastic Surgery
When it comes to unbiased consultations and second opinions, trust your care with the specialists at Beverly Hills Plastic Surgery. Since opening our doors, our experienced surgeons have helped countless women explore their augmentation treatment options and identify the best solution for their bodies. Throughout preparation, surgery and recovery, we're your partners in revealing a beautiful and more confident you. Learn more about this application of augmentation by calling and scheduling your consultation today!