Breast Reduction Plastic Surgery Before And After Photos
Posted on June 17, 2018
Breast Reduction Plastic Surgery
Breast reduction is a safe and effective cosmetic surgery procedure to reduce the size of excessively large breasts.
At the time of pre-operative consultation, the surgeon will determine the patient's candidacy and explain to her the steps involved in the procedure. Some surgeons may also present breast reduction before and after photographs at this appointment.
A dedicated surgeon will like to ensure that the patient has a clear understand of breast reduction surgery, its potential benefits as well as its risks and limitations before she makes a final decision. plastic surgeon Dr. David Kim provides breast reduction to patients in Beverly Hills, Los Angeles, and surrounding communities and towns in this region of the state.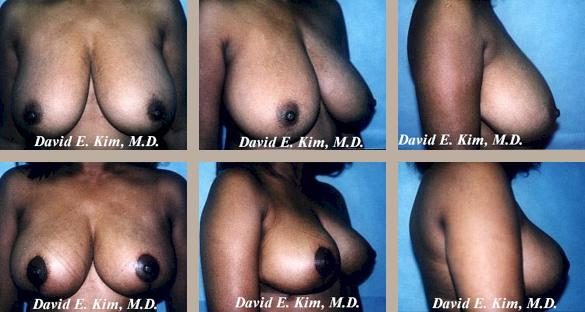 What are Breast Reduction Before and After Pictures?
Before and after pictures in case of breast reduction plastic surgery refer to a set of photos related to an earlier patient who has received the same surgery with satisfactory results. The set includes photos taken before the surgery and after the surgery at a stage when full effects of breast reduction have been established.
The surgeon will take care to obtain the photographs with the patient's full consent and present them before new patients in a discreet manner. The patient's identity may be kept confidential as per the protocol. The only purpose of the surgeon here is to let new patients understand what a breast reduction surgery can or cannot do for them.
Something that should be mentioned in this piece is digital technology. It was not that long ago that amazing pictures just could not be seen unless an appointment was made and someone had to set time out of their schedule to go meet with the surgeon. Now with the amazing technology of the Internet a potential patient can see these pictures anywhere at any time.
Benefits
When a patient decides to have a breast reduction surgery consultation, she may be uncertain or unclear about how far the procedure can improve her body proportion and enhance her figure. The patient would like to ensure that the procedure will meet her personal aesthetic needs, and produce natural looking results.
Some patients may require limited tissue removal, while some others may need significant tissue reduction along with liposuction fat removal.
In some cases, the surgeon may recommend breast reduction in combination with a breast lift. In each case, the patient can make better choices when she has access to breast reduction before and after photos.
Being Realistic
Best outcomes in any cosmetic surgery procedure can be obtained when the patient has clear aesthetic priorities, positive mindset, and realistic expectations. Therefore, an experienced treatment provider may show breast reduction surgery before and after photos at the very outset so that the patient knows clearly what to expect and what not to expect from it.
This will mitigate the risk of any misunderstanding or disappointment occurring at a later stage for the patient. Such patients will usually achieve higher satisfaction levels in the end.
Images on the Web
The surgeon has the option to present breast reduction surgery before and after photos on their practice website which is the case here. Dr. Kim has no qualms about showing the world his capabilities. These poignant pictures are available for anyone to see. The photos can be viewed online by the new patients in an exclusive Photo Gallery section on the site.
After reviewing the photos online, a patient will be able to choose whether to explore the procedure further by way of a personal breast reduction consultation with the surgeon.
Focused cosmetic surgeon Dr. David Kim receives patients from Beverly Hills, Los Angeles, and nearby areas for breast reduction.
Transparency is the key here. Not only this, utilizing technology is vital as well. Now someone can see these stellar pictures without notifying anyone. As somewhat touched upon, a patient can see these pictures from a table in a coffee shop or their desk at their own home. It is a brave new world and the world is much flatter because of the Internet and the information that is available.
For more information on the surgical and non-surgical procedures and treatments by Cosmetic Plastic Surgeons Dr. David Kim and Dr. Eugene Kim. Click here to contact us today.
Serving Beverly Hills, Los Angeles, West Hollywood, Orange County, Southern California and surrounding areas.