Chin Augmentation Before And After Photos
Posted on January 18, 2021
Chin Augmentation Implants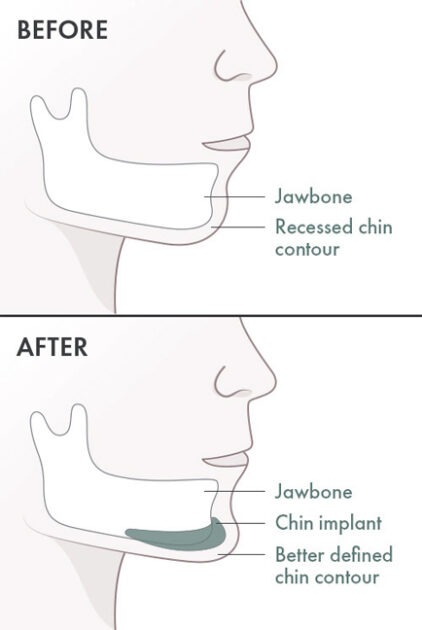 Chin augmentation cosmetic surgery involves surgically inserting implants within a receding chin to add volume and make it more proportionate and balanced to the rest of the face. The surgeon will walk you through the process and everything you need to know during the initial consultation. They may even show you before and after photos of chin augmentation surgery performed on past patients.
The first goal of any dedicated surgeon will be to educate patients about the procedure to help them make a conscious decision. Before and after images play a vital role in this process. plastic surgeon Dr. David Kim provides chin augmentation to patients in Beverly Hills, Los Angeles, CA, and surrounding locations.
What are Chin Augmentation Before and After Pictures?
Before and after images refer to a set of pictures showing the results of chin augmentation plastic surgery performed on previous patients. The images are taken prior to and after the procedure at different stages. The photograph set will include pictures of the final stage when the post-op swelling has subsided and complete results have manifested.
It is important that the surgeon ensures that pictures are taken only with the patient's consent. They are required to show these images in a discreet manner so that the patient's identity remains confidential. The sole purpose of this endeavor is to explain the results and benefits of the surgery to a prospective patient.
These images are not on the site now for chin augmentation. This does not mean they cannot be uploaded at any time. All patients must have a consultation before any surgery with Dr. Kim so this is when you should ask to see these images as of right now.
Building Trust and Personal Rapport
Before and after images of chin implants plastic surgery can help the surgeon in creating a good rapport with patients. It enables the cosmetic surgeon to build trust with a new patient in a more effective manner. The images allow new patients to discern the ways in which the surgery worked on other patients and how the procedure may help them.
Before and after images of chin augmentation provide visual proof of the results that can be accomplished through this surgery. They help in building a relationship of transparency and enable more open communication between the new patient and the surgeon.
Pictures can Say More than Words
Chin augmentation before and after pictures present reality in a more effective manner. Words can sometimes sound incredulous or confusing to the ears. However, pictures speak without any ambiguity and can get the message across more directly. Words are open to interpretation. The cosmetic surgeon may mean one thing and it may be construed as something else altogether by the patient.
Pictures are not limited by these typical barriers of language. They don't misrepresent or exaggerate the true story. Cosmetic surgeons need to be careful so as not to edit or modify the pictures in any way which Dr. Kim nor does his successful practice do. Transparency is the key here and because of the integrity that is bestowed by this practice they have a long list of satisfied patients.
Spreading the Word through Social Media
Social media networks have gained immense popularity in recent times. They have created new and versatile avenues for people to share their before and after images. Instagram and other social photo sharing platforms have over a billion users.
Plastic surgeons can tap into this database to educate people about the benefits of a chin augmentation surgery. These sites present immense information sharing possibilities. Cosmetic surgeon Dr. David Kim receives patients from Beverly Hills, Los Angeles, CA, and nearby areas for chin augmentation plastic surgery.
Schedule a Consultation with Beverly Hills California Plastic Surgeon Dr. Kim
For more information on the surgical and non-surgical procedures and treatments by Cosmetic Plastic Surgeons Dr. David Kim and Dr. Eugene Kim. Click here to contact us today.
Serving Beverly Hills, Los Angeles, West Hollywood, Orange County, Southern California and surrounding areas.