How to Determine the Right Breast Implant Size for Your Figure
Posted on November 15, 2019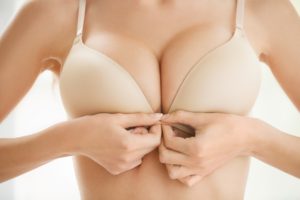 Congratulations! You made the decision to enhance your bust size with breast augmentation! You're not alone – in 2018, over 313,000 augmentations were conducted across the United States, a 4% increase from the year before. Now, its time to find the perfect implant size – but where to start?
Choosing the right implant size is an incredibly personal decision that is based on several factors: your lifestyle, your ultimate aesthetic goals, and long-term appearance. Needless to say, each of these factors requires careful consideration on the part of patients. When in doubt, always consult a trusted expert. In Beverly Hills. Cosmetic surgeons Dr. David Kim and Dr. Eugene Kim have developed a strong reputation for highly professional care that creates stunning results. Our Beverly Hills surgeons welcome all individuals to schedule a private consultation regarding breast augmentation.
Size Matters with Implants
When it comes to choosing the perfect implants, the size of implant you choose has a ripple effect on the long-term results of your procedure. How your clothes will fit, how noticeable your augmentation is, and even future breast health are all impacted by the size and shape of the implants you choose. Depending on the patient, the desired results may vary. While some may be looking forward to the noticeable change, others prefer a more subtle augmentation.
Likewise, there are certain factors that influence the size of implant a person should get. The person's figure is an especially important consideration when choosing the best implant. Too large of an implant can look disproportionate on a person's figure and may cause them to look more top-heavy than they initially intended. Improperly sized implants may also create health issues down the road such as back pain, sagging, and thinning tissue around the implant. As a result, many patients who choose very large breast implants during their initial treatment return for corrective surgery or to replace their initial implants with smaller ones.
Easy Steps When Choosing Your Breast Implants
Are you in the process of considering the best implant size for your figure? Here are some considerations to keep in mind when weighing your options. One way you can determine what size implant may be best for you is to perform the Rice Test in the comfort of your home. To do the rice test, simply put rice in a plastic baggie or nylon hose. Adjust the amount of rice in the bags to experiment with different sizes. You should wear the rice in a bra or swimsuit top for a couple of hours to get an approximation of how the new size will look and feel.
In addition to using the Rice Test to get a preliminary feel for your personal preferences, there are several other factors you should consider:
What's Your Lifestyle?
For active women, implants can help restore femininity and build self-confidence. However, going too large with implant size can begin to impede performance and make certain activities such as jogging or running uncomfortable.
What is Your Current Goal?
At the end of the day, breast augmentation helps patients achieve their desired aesthetic goals. However, it's important to know exactly what that end goal is and how augmentation fits in. It's important that the size you choose is the size you will feel comfortable and confident in. Going for an ultra-dramatic change can cause some to feel their implants look unnatural post-surgery, leading some to return for breast implant replacement down the road.
Think Long Term
While implants may not last forever, they do last a long time and you can expect to have them for many years to come. When choosing implants for your augmentation procedure, be sure to consider how you'll feel about their appearance five and ten years in the future.
Meet with Our Specialists
While we can't make the final decision for you, our team of experts can certainly help. Call Beverly Hills Plastic Surgery today and schedule your consultation with our plastic surgeons. During your session, our specialists will guide you through your options and help you explore all considerations before settling on your implants. Call today to get started!