Love Your Lips, Lose Your Lines this Valentine's Day
Posted on February 7, 2020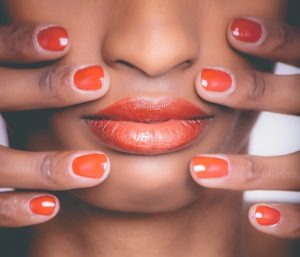 The plump, lucious lip trend: Angelina Jolie may have started it, but Kylie Jenner is finishing it. The interest in lip injections is soaring, and celebrities aren't the only ones with access to the advanced lip treatments. This Valentine's Day, give a gift to yourself and surprise your special someone with fuller, plumper, more kissable lips and by softening facial lines and wrinkles. Dermal Fillers are a quick and easy way to rejuvenate your face and make yourself more alluring year-round.
Get Plump, Kissable Lips
As we age, our lips tend to dull and lose volume. If your lips have thinned, or if they are asymmetrical or simply in need of a little love, injectable fillers like Juvederm and Restylane can give them a youthful, plump, enticing look. These fillers are made with hyaluronic acid, a naturally occurring substance in the body that retains moisture and adds volume to the tissue below the skin.
With just one office visit, you can have more kissable lips and a more voluptuous smile. There's no downtime from the treatment and the results will last for six months to a year. When your lips start to thin again, you can simply have a refresher treatment.
Soften Facial Lines and Wrinkles
In the same way that lips lose volume with age, facial skin tends to lose its resilience and form lines where it is repeatedly creased. This is due to the gradual decline in the production of collagen, which keeps our skin moist, plump, and flexible when we are young. These lines typically form between the nose and the sides of the mouth (marionette lines), to the sides of the mouth (smile lines), at the edges of the eyes (crows' feet), and as tiny vertical creases in the skin just above and below the lips (sometimes called smokers' lines).
Just as with thinning lips, facial lines can be filled and softened with dermal fillers. Different fillers are used for different types of facial lines. Belatero Balance, made from a hyaluronic acid gel, is ideal for erasing delicate lines, such as shallow smile lines and the fine creases above and below the lips. Juvederm, Restylane, and Perlane, also hyaluronic acid fillers, come in different formulations for filling fine lines and deeper creases. In a personal consultation, your doctor can suggest which filler or combination of fillers will work best to soften the lines on your face.
A visit for injections of facial fillers typically takes about 30 minutes, or sometimes a bit longer if multiple areas are being treated. You'll see the final results in about a week, and they'll last for six months to a year.
Botox, Dysport, and Xeomin offer a different type of treatment for facial lines. They work by relaxing facial expression muscles that cause the skin to crease. These muscle relaxants are effective for reducing lines between the eyebrows, creases in the forehead, crows' feet, and vertical lip lines (smokers' lines).
Plan Ahead
It's best to plan ahead and have filler injections at least a week before you want to look your best. You'll notice an immediate difference after treatment, but you may also experience some minor bruising and swelling for the first three days and sometimes for as long as a week. Getting your treatment on a Thursday or Friday gives you the weekend for these side effects to fade away.
You may also want to have the filler injected in more than one session to avoid the risk of overdoing the treatment. A conservative application in two or even three sessions, with time in between for the swelling to disappear, is usually recommended for the most natural-looking results.
Give Yourself a Gift This Valentine's Day
Make this the Valentine's Day you love your lips and lose your facial lines. Dr. David Kim or Dr. Eugene Kim at Beverly Hills Plastic Surgery are experts in the aesthetic application of dermal fillers and have developed an impeccable reputation for their stunning, natural-looking results. Contact them today at (310) 746-5475 or send an online request to schedule a consultation.