Plastic surgery blog:Demi Moore digitally imaged Will this backfire?
Posted on June 8, 2017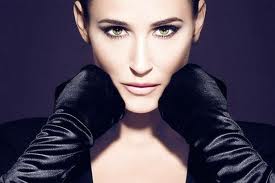 According to an online Orange County Register blog post, the new Demi Moore image that was released as part of the Helena Rubinstein cosmetic company advertising a promotion shows a celebrity who is virtually unrecognizable. Many other blog post and beauty articles allege that the photograph has been extensively digitally enhanced. Many writers point to the fact that the skin looks eerily flawless and that there are absolutely no wrinkles on the 49-year-old actress. The public is well known that fashion companies digitally enhance photographs to sell their products. When cosmetic companies do so in such an obvious way it raises questions as to the message of their attempting to convey to their consumers. The implied message would be that if they use the products, they can achieve the look of the model. The reality is if consumers can tell that the photo has been digitally enhanced it is debatable as to whether the connection to the product will be a positive one. Dr. Kim reminds his patients that digital imaging and Photoshop should always be considered when patients are comparing celebrity photos to the cosmetic surgery enhancements they are considering. Cosmetic plastic surgery results are highly dependent upon the patient, the plastic surgeon, and the patient's desires. It is not realistic for an average 49-year-old woman to compare herself to a celebrity like Demi Moore and expect to have the same appearance whether digitally enhanced or not. The reality is each person is able to achieve their best most youthful appearance when they are honest and realistic about what can be achieved in their specific situation. The most popular procedures include breast augmentation, liposuction, and for women over 40, facelift. Dr. Kim encourages his patients to celebrate their unique features and to realize that his goal is to enhance the beauty each patient already possesses.