Plastic Surgery Procedures for an Hour Glass Figure
Posted on March 5, 2019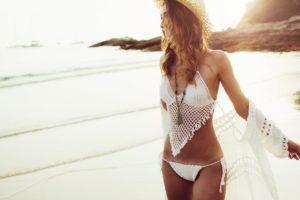 From the classical era to classic film legends, the hourglass figure is a timeless one that celebrates femininity. Not everyone is born with this classic figure though. While yesteryears ladies may have tried to accentuate their assets with corsets and restrictive diets, new innovations in plastic surgery techniques have made it easier for the modern woman to achieve this classic look while still looking natural.
Creating the Iconic Waist
When it comes to creating the iconic hourglass figure, the bust to waist to hips ratios plays an important role. Unless you're naturally born with a tiny waist and larger hips and bust, this ratio can be difficult to achieve with diet and exercise alone. However, the following plastic surgeries around the waistline can be completed to help bring in the waistline and accentuate the body's natural curves.
Liposuction
Perhaps one of the most popular plastic surgery procedures, liposuction is a minimally invasive treatment used to remove excess fat tissue from specific areas. For patients looking to create the iconic hourglass figure, liposuction can be used to remove unwanted fat pockets from the abdomen and hips, creating a smaller looking waist. Part of the advantage of using liposuction to remove this excess fat is that so long as patients maintain a healthy diet and do not put on substantial weight, fat will not accumulate again in the treated area.
Tummy Tuck (Abdominoplasty)
Popular after pregnancy or substantial weight loss, tummy tucks can tighten the underlying abdominal muscles and narrow the waistline, ultimately creating the iconic hourglass waist. As this procedure is more invasive than liposuction, recovery can be slightly longer. However, the comprehensive nature of treatment makes it a permanent solution to weakened muscles and eliminates the risk of excess skin marring final results.
Beginning with the Bust
In some instances, creating the hourglass figure isn't so much about creating a smaller waistline as it is about enhancing the bust or bottom. For individuals with more rectangular body shapes as well as those with smaller chests, breast augmentation or lift may be the ideal solution for reaching their dream physique.
Breast Augmentation
Aging, weight fluctuation and even genetics can all result in smaller breast size, leading to a disproportionate figure. Breast augmentation can be completed to enhance cup size and restore volume and symmetry to a patient's chest. Depending on the patient's preference and end goals implants can be made from saline, silicone or gummy silicon.
Breast Lift
In some instances, breasts may be better enhanced with a lift rather than an implant. For these patients, breast lifts may be included as part of your journey to an hour glass figure. Rather than increasing the size of the breast with an implant, excess skin is removed while the nipple and areola are moved higher up on the chest. For women looking for a subtler hourglass figure, mastopexy can be the perfect enhancement.
Enhancing the Ends
What is an hourglass figure without a generous, curvy lower half? While some patients may have been gifted with a naturally generous lower rear, others may need surgical assistance to achieve this component of their desired hourglass figure. For these individuals, Brazilian butt lifts have become popular solutions.
Brazilian Butt Lift
While traditional butt implant procedures use synthetic implants to enhance the curve of the derriere, Brazilian butt lifts use the body's own fat cells to add volume to the buttocks and hips. For women working toward the hourglass figure, this treatment offers the benefits of two treatments for one procedure as the excess fat tissues are taken from other parts of the body, such as the abdomen then reinjected into the buttocks. As the donated tissue is from your own body, there is less likelihood that the body will reject the injected fat cells.
Achieve Your Perfect Figure at BHPS
At BHPS, our goal is to help you achieve your dream figure without compromising your natural beauty or figure. We offer a wide range of plastic surgery procedures designed to emphasize your best assets and address your concerns. Together, we'll help you create the treatment plan that helps you feel confident in your appearance. To learn more about plastic surgery procedures, call (310) 746-5475 today and schedule your consultation with our surgeons today!