What is the Best Abdominal Procedure for Your Goals?
Posted on March 25, 2021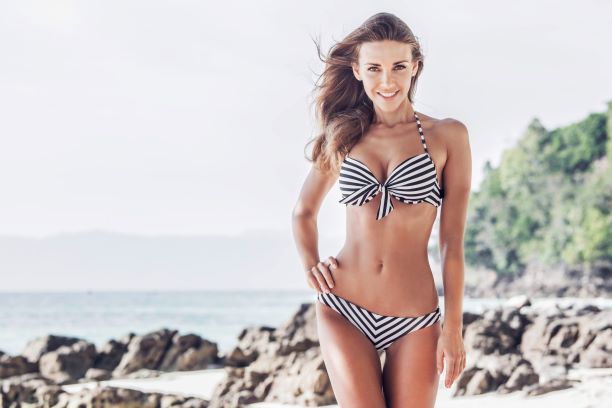 You're closer to your ideal weight after practicing healthy eating and exercise habits, but you're still unhappy with the appearance of your abdomen. You might be frustrated that your belly is still flabbier than you'd like it to be, that it retains a bulge you can't flatten, or that loose, sagging skin makes you embarrassed to show your midriff. You're considering treatment to take you that last step to a firm, flat, trim midsection, but you're not sure which to choose.
In this article, we'll explain your treatment options and help guide you to the best choice, based on your goals.
It's Your Body, Your Priorities, and Your Choice
Every body is different and responds in different ways to aging, weight changes, and pregnancy. And every individual has different priorities in life — not just about how they look, but how much time they can take for treatment and how quickly they'd like to see results. Here are the key factors to consider as you weigh your treatment options:
Your body. Different cosmetic treatments correct different sets of body problems. If your main problem is with pockets of diet- and exercise-resistant fat and your skin is resilient and your abdominal muscles tight, then less-invasive treatment may be your answer. If your skin and muscles have stretched beyond the point where they are able to spring back, surgery may be a better choice.
Your schedule. Different treatments have different timelines. Noninvasive treatments take longer to produce results but don't involve downtime. Surgical procedures produce final results as soon as you heal from the procedure but require downtime for recovery.
Your goals. Will you be happy with a modest, incremental improvement? Or do you want a more dramatic transformation?
Tummy tuck
A tummy tuck is surgery to tighten loose skin, repair weakened and separated abdominal muscles, and remove excess fat. It's major surgery, but it's the most transformative of the procedures to repair a flabby, bulging belly. With a tummy tuck, you'll get a firm, flat, smooth abdomen and a slimmer waistline. If you have loose, sagging skin on your stomach and your belly bulge is from muscles that no longer hold your midsection flat, a tummy tuck is the only procedure that can restore a youthful appearance.
While a tummy tuck can work wonders to improve your appearance, it does require downtime for recovery. Most patients take at least two weeks off from work, and it can take several more weeks before they feel completely back to normal. For a sense of the results you can expect from a tummy tuck, view our before-and-after photo gallery.
Liposuction
Liposuction is a minimally invasive procedure to remove pockets of excess fat. It's a body-contouring procedure, not an overall weight-loss treatment, as it targets specific areas of diet- and exercise-resistant fat. In liposuction, a thin tube, or cannula, is inserted through small incisions and used to break up and remove fat deposits. The fat cells removed in liposuction are gone forever and they won't grow back. If you gain weight after treatment, the remaining fat cells will increase in size, but there are fewer of them in the treated area, so your stomach will remain proportionally slimmer. Liposuction does not work to tighten loose skin or repair weakened abdominal muscles.
Most patients need a few days to a week of downtime after liposuction and may have some short-term swelling and bruising. The slimming effects are visible immediately, and final results appear after about three weeks. You can see examples of these results in our before-and-after photo gallery.
CoolScultping
CoolSculpting is a remarkable new treatment that uses precisely controlled cold temperatures to destroy fat cells where excess fat lingers in pinchable bulges. The technology uses a cooling device that surrounds the area to be treated, chilling the fat to the point where it is damaged, without hurting skin, muscle, and other surrounding tissue. In the weeks following treatment, these damaged fat cells are naturally processed out of the body as waste.
You'll have no downtime after a CoolSculpting session. You can walk out of treatment and go straight back to work or resume your normal activities. Final results appear about three months after treatment, and it can take more than one session to achieve optimal results.
Learn More About Abdominal Treatments in Beverly Hills
Dr. David Kim and Dr. Eugene Kim at Beverly Hills Plastic Surgery have developed an impeccable reputation for stunning, natural-looking cosmetic treatment and plastic surgery results, attracting patients from all over the world. Contact our practice today at (310) 746-5475 or send an online request to schedule a consultation and a recommendation on the abdominal treatment — or treatments — best suited to your needs. For many patients, a combination of procedures is the ideal solution.